.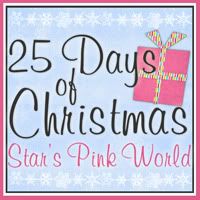 This is by far my favorite day of all of the 25 days. I just love crafting! Know what else I like? Countdowns. So what better craft than an Advent Calendar!
Supplies:
dowel
canvas
25 stars
paint/glitter
ribbon
hot glue
velcro
First, take a piece of canvas and fold over the end, iron, and glue. Slip the dowel into the hole.
Second, paint a Christmas tree on the canvas (or cut one out of felt and glue it onto the canvas)
Add water to white glue and spatter it onto the tree.
Next, paint 25 stars, and add glitter!
(these can be wooden stars or felt stars or whatever tickles your fancy!)
You can even make different ornaments such as gingerbread men or candy canes. Anything goes!
Let that dry!
Write the numbers 1-25 on the stars.
Then glue a small piece of Velcro onto the back of each of the stars,
and the opposite piece of Velcro onto the tree!
With scrap canvas, make a pocket to keep the stars in until they are needed!
Paint presents on them for under your tree!
Tie a ribbon on top to hang it on the wall!
Now, as each day passes between December 1st and Christmas, place a star on your tree!
ta da!